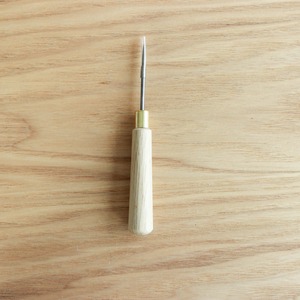 水引作成キット 梅結び、淡路結び解説動画つき Kit for Mizuhiki making
水引作成キットです!

水引を始めたいお母さん方。
買いに行く時間もないし、どこで売ってるかも知らない。
そもそも、何をそろえればいいのかもわからい。。。

なんて悩んでませんか?

そんな方々に救世主!
これさえあれば梅結び、淡路結びが作成できます。

梅むすび・淡路結びの作り方の動画も一緒にお伝えします。

かわいいラッピングはもちろん、箸置きやピアス、髪飾りだって作れちゃう!

必要最低限の道具が一回でそろうこのセット、是非お試しください♪


■内容(3枚目以降の写真順) 
ヤットコ
・ラジオペンチの代わりに使う道具となります。ワイヤーを固定するときに使います。
ニッパー
・ワイヤーを切るための道具です。水引も切れます。
めうち
・水引をしごいたり、小さい玉結びを作るときに必須の道具です。
ワイヤー
・水引の固定に使う道具です。この材質のこの太さが、水引と相性が良いです。
水引
・赤3本(絹巻)、白3本(絹巻)、ゴールド(プラチナ)、ホワイトゴールド(プラチナ)

■色
もし希望の色がありましたら、そのお色の水引をお入れします。

■注意書き
ヤットコ、ニッパーの色が変わる可能性があります。
お含みおきお願いいたします。

Mizuhiki making kit!

Do you know how to make Mizuhiki?
Do you have any tools to make Mizuhiki?

You do not need to worry about it!

I will send you a Kit to make Mizuhiki!

I know that some tools are very difficult to get since you are not inn Japan.


I will also tell you a video how to make a Ume-musubi(knot) and Awaji-musubi(knot).

You can make not only cute wrapping, but also chopstick rests, earrings, and hair accessories!

Please try this kit, which is the minimum necessary tools♪


■ Contents
Yattko
-It will be a tool to use instead of needle-nose pliers. It is used to tie up the wire.
Nippers
-A tool for cutting wires and Mizuhiki.
Needle punch
-It is an indispensable tool when squeezing Mizuhiki or making a Tama-musubi (Tama-knot).
Wire
-A tool used to tie Mizuhiki. This thickness of this material goes well with Mizuhiki.
Mizuhiki
・ 3 red (silk roll), 3 white (silk roll), gold (platinum), white gold (platinum)

■ Color
If you have a desired color, we will add a mizuhiki of that color.

■Note
Colours of Yattoko and Nipper might not be different from the colour shown in the picture.



*Tax included.
*Additional shipping charges may apply, See detail..
About shipping fees
The shipping fee for this item varies by the shipping method. Customers can choose the shipping method at time of purchase.
Nonstandard‐size Mail

This shipping method cannot have the delivery status and guarantee

Shipping Fees are the same all over country inside Japan ¥200
International parcel

Can deliver urgent parcels most safely

Shipping Fees are the same in all countries outside Japan ¥1,000